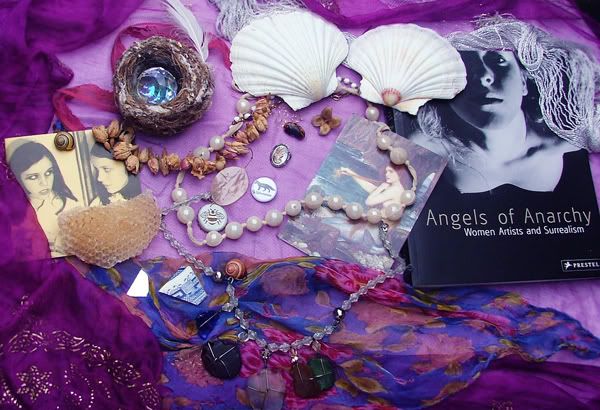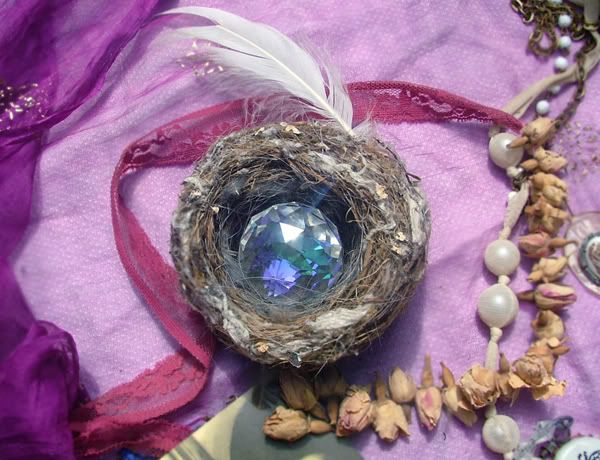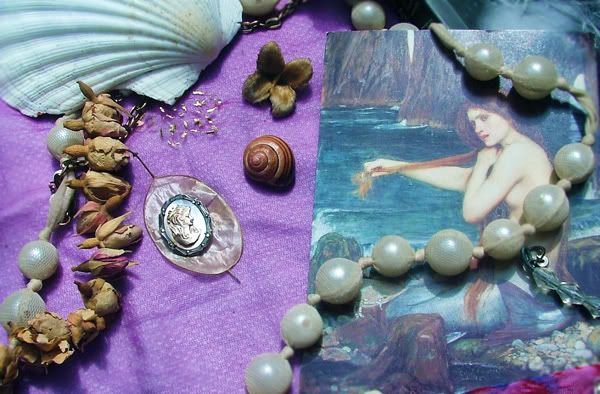 Michaela Meadow is a wonderful fine artist and a great friend of us. She's also the creative director and curator of a marvelous magazine named Magpie Magazine. Once she painted a dreamy portrait of v* and has featured some of c*'s work in her magazine.

She is truly one of those people that turn every little thing they touch into magic!

Here are her favorite things:

* The book on the right is from a very inspiring exhibition that I saw recently called 'Angels of Anarchy' which was a fantastic collection of women surrealist work, which included some of my favourite artists; Leonora Carrington, Frida Kahlo, Remedios Varo and Lee Miller.

*The shell bra was made by my friend Lara Leaf, which I wore recently for a photoshoot we did together where I dressed up as a mermaid.

* I found the little bird's nest in the attic when I moved into my new home.

*Inside the nest is tucked a small crystal prism which I love gazing through and seeing everything reflected in rainbows.

*Rosebud and lace necklace that I made.

*The mermaid postcard is a painting by John William Waterhouse. I was lucky enough to see the original which is on display at The Royal Academy in London.

*The small mother of pearl brooch of a woman's profile was given to me by an old lady and close friend of mine when she was in her 90s. She bought this when she was a girl my age in Paris.

*A piece of honeycomb, which was also a gift from miss leaf, she keeps bees and this comb was one left over from a honey making session. She also gave me the bottle cap with the bee design.

* The necklace of broken glass comes from my mother, she bought it from a market in South Africa in the 70s.

*Delicate blue and red rose print head scarf - this is also my mothers.

*The picture of the two girls is the album cover for Belle and Sebastian for their record 'Fold your hands child, you walk like a peasant' which is a perfect album for dreamy summer days.

*The long pearl necklace I found washed up on the beach one day, i'd like to fancy it used to belong to a mermaid!

*The fox badge was made by a group of fantastic english (Brighton based) musicians who are all part of different bands but come together as a collective known as The Willkommen Collective.

*And the rest are a few assorted bits of ceramic, mirrors, shells, feathers and seeds - i'm always collecting little treasures like these on my travels!