Many a wonderboy the world has seen but not even one gets close to our dearest Dimas*.
We are absolutely enchanted by this little darling who has done more than warm and enrapture these beating hearts of ours.
Every little thing he touches turns to dreamy starshine, the sky and the moon pale in comparison to the marvelous glimpses we have seen of his world.

If there ever was magic, it's been in his hands and his heart since the beggining of the times!
These are his favorite things: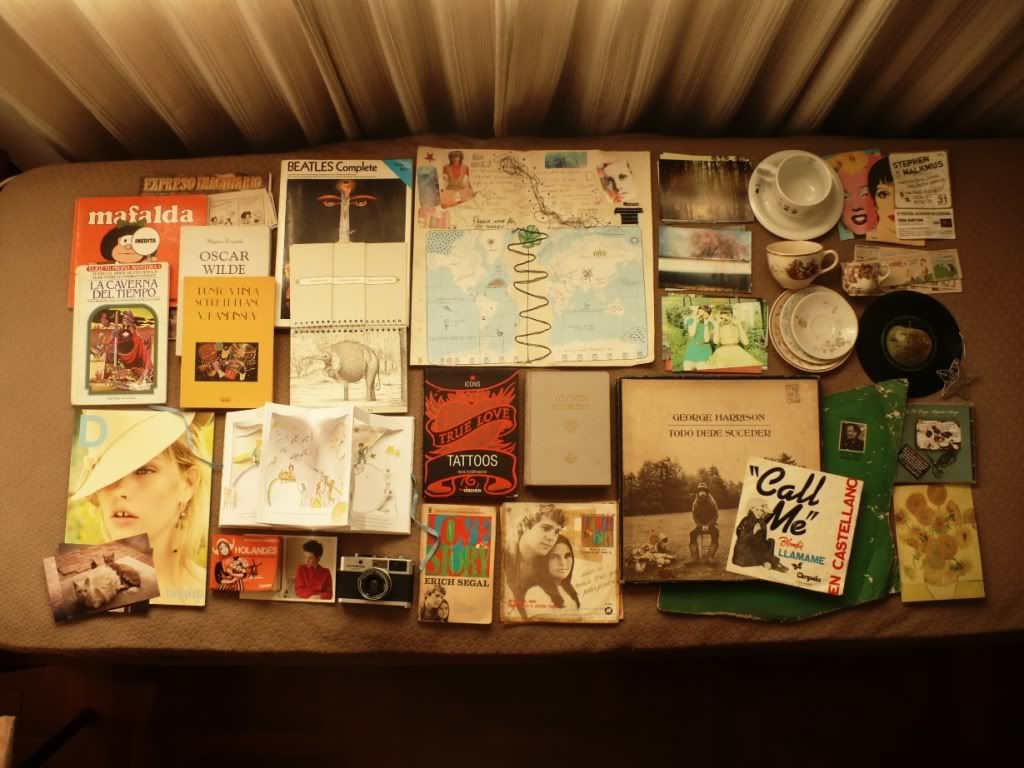 ♥ Inedit Mafalda + comic strips cut from papers. That was the first Mafalda book i got, which my lovely cousin Elga gave to me (:
♥ (Imaginary Express), Rock magazine from the past century.
♥ Chosen pages from Oscar Wilde. Brilliance never ends.
♥ - Punto y línea sobre plano, de Vasili Kandinsky. Un esencial ahora, un gran dolor de cabeza hace tiempo.
♥ Wassily Kandinsky's Point and Line to Plane. An essential now, a great headache once.
♥ Choose Your Own Adventure Series' The Cave of Time. These books are another classic from the 80's, oh yes.
♥ Beatles Complete: Guitar Edition. Despite its name, it's incomplete, has some errors and the artwork is terrible but still is something I love.
♥ (Universal Animalary of Profesor Revillod) by Miguel Murugarren and Javier Sáez Castán. 4096 different beasts to be discovered by oneself!
♥ My favorite collage. Ash gave it to me for a birthday.
♥ Pictures of my favorite photographers: Noelia y Lieke.
♥ Pictures of my favorite photographer, person and companion, Cassie.
♥ My adored Luján and Guadalupe Podestá's teacup and plate, an unforgettable gift from Ce.
♥ Some old beautiful teacups and saucers. Flea market's.
♥ Old postcards from my favorite film club about Warhol's Marilyn and Liza.
♥ Calvin and Hobbes, comic strips cut from the newspaper. I used to adore it when i was a child.
♥ (Whatever Will Be, Will Be), Mary Hopkin' single. Oh nostalgia of the days i never have lived.
♥ Wire star, a gift originally meant for the xmas tree which ended in my bed.
♥ D-Mode magazine, it's hard to get but it worths it.
♥ Photos of Nana, Polly and Mina at the old patio. I carried them with me on my last trip.
♥ Le Petit Prince, foldout version. Supposed to be a present but I kept it to myself. It's that it's too nice!
♥ Dutch-Spanish and Spanish-Dutch Dictionary. I still didn't learn much, boo.
♥ Jazmín Chebar's postcard of Celeste Cid. I like Celeste a lot, I forgot to add her book here too.
♥ Olympus 35RC, belonged to dad until I stole it from him.
♥ Tattoos (Taschen Icons Series), an inspiration.
♥ Les Pays Nordiques, nicenicenice book, finger-lickin' good!.
♥ Love Story's treasures: book by Erich Segal's and the album. Yes, treasures they are!
♥ George Harrison's All Things Must Pass. Still doesn't sound old to me.
♥ Call me (in spanish) / Llámame Blondie's single. Oh Deb, your spanish kills hearts!
♥ Artaud by (Rabid Fish), a classic and one of the first albums i liked from the beginning to the end.
♥ Popular Songs by Yo La Tengo. About how to get older and greater at the same time.
♥ Van Gogh's Sunflowers card from Victoria/ Toi). The most beautiful part is inside.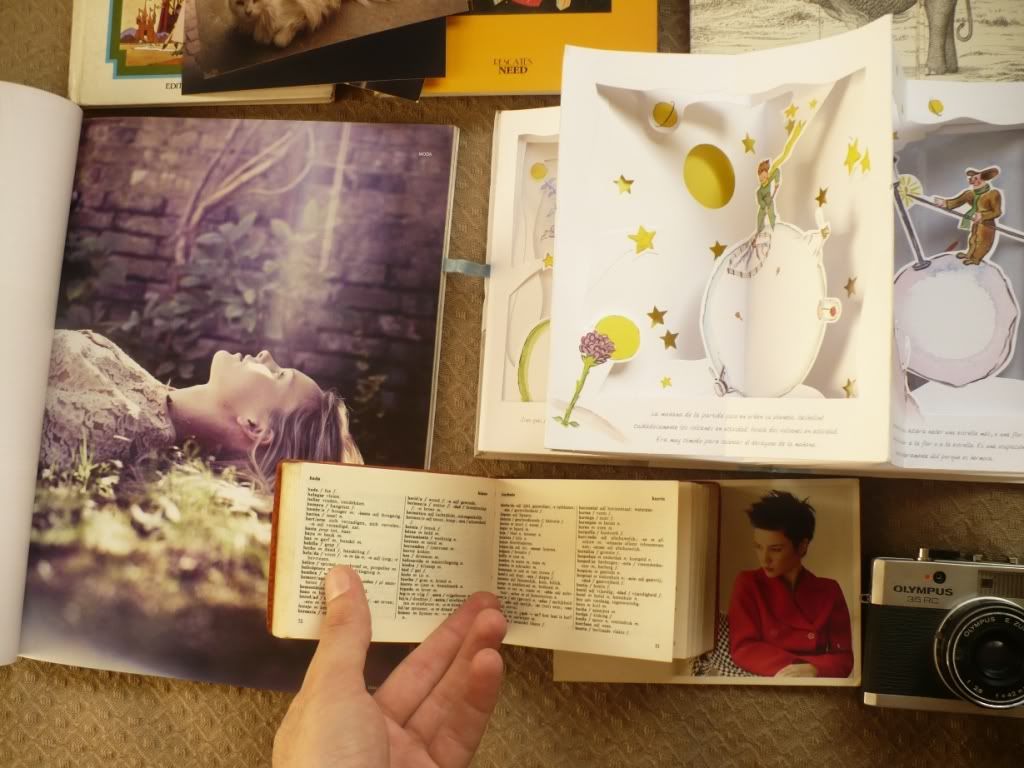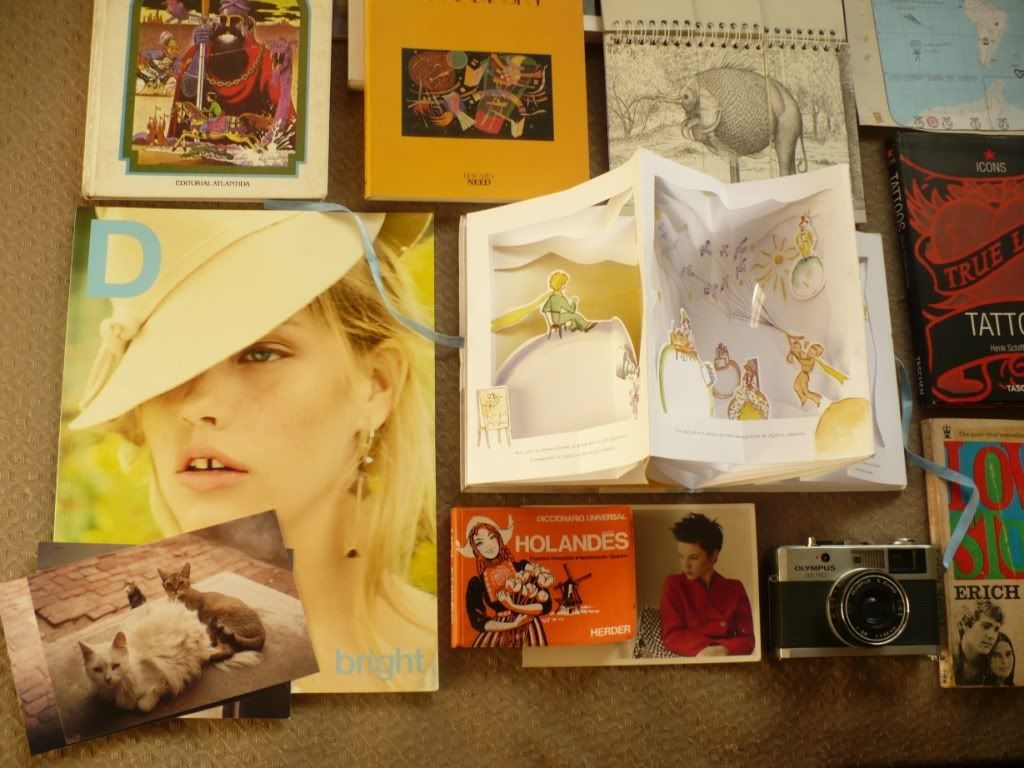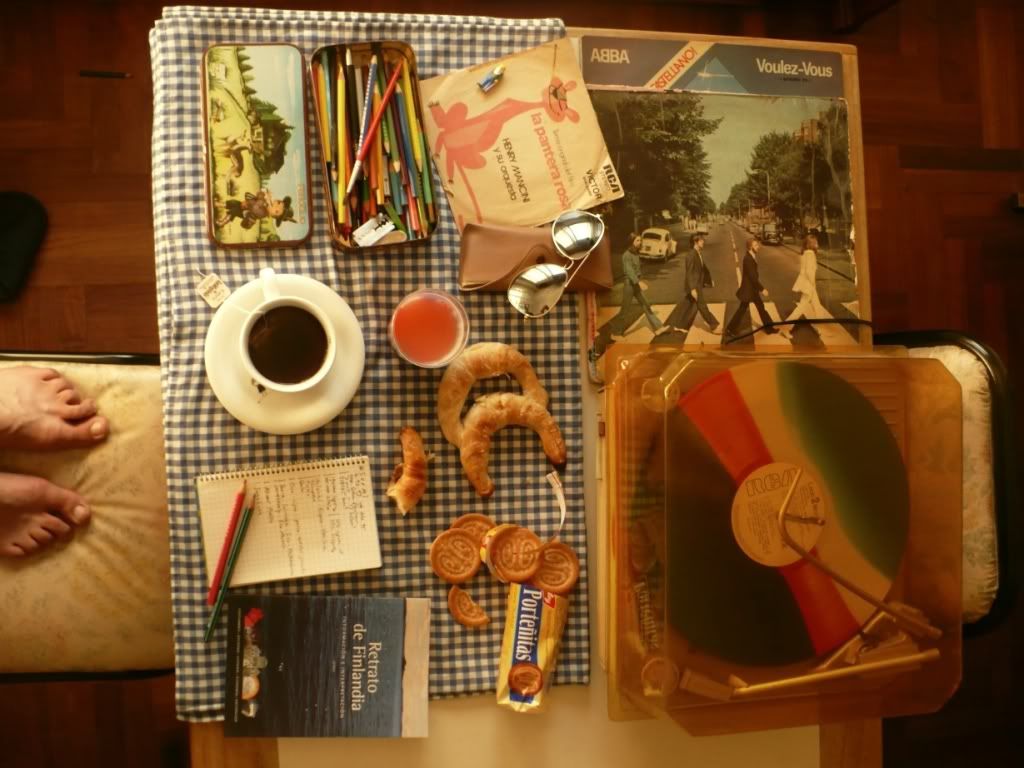 ♥ ABBA's Voulez-Vous with Chiquitita in Spanish (!!!!!!). Used to la-la-la that song when somebody's crying. My sister, for example.
♥ Abbey Road by The Beatles, the one I always liked the most since side B blew my mind at the age of 6 or 7.
♥ Mom's Wincofón record player, i rescued it from a donation to some museum my grandma was going to make. Inside, an awful terrible album from which I only like for its colours, the music is so depressingly emetic!
Pink Panther Theme (single) by Henry Mancini, one of the first that anybody incorporates to the mind, but to have it in the hands too is better.
♥ Gaspar Beardley from the Simpsons to a Jack's chocolat. He's not my favorite, that's Otto.
♥ Glorious old glasses and case, $10 (pesos) at the fleamarket.
♥ Fenoglio's chocolate can full of pencils, I carry it with me everywhere when I'm away.
♥ Strawberry and kiwi Tang powdered juice, just great.
♥ Cinnamon tea, the best.
♥ Luján and Guadalupe Podestá's teacup and plate, the second pair (:
♥ Croissants from my favorite bakery in Córdoba, one block away.
♥ Porteñitas cookies, nice, kinda boring but always a good meal when you've got anything else to eat.
♥ Little ordinary notebook. I've got dozens like this, all incomplete and lost everywhere.